Biohazard Cleanup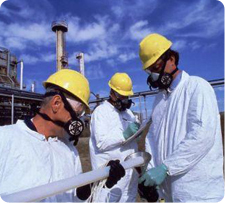 Biological and chemical contaminants can cause serious health consequences and long-term damage to your immune system. Professional remediation, cleanup, decontamination and final inspection are the only way to restore your environment to preexisting conditions.
TERS experts are trained to safely inspect, remove and decontaminate any biohazard substances and dispose of them properly in accordance with EPA, OSHA, and health regulations. Our experts are equipped with the necessary safety apparatus, biohazard analyses and decontamination systems. TERS'
GREEN
decontamination system helps turn unsafe environments into clean, safe homes and offices without using any toxic chemicals.
Sewage Backups
Sewage backups and contaminated water intrusions are more than smelly nasty damages; they introduce toxic microorganisms into a structure. TERS Professionals remove the sewage, contaminants, and moisture, and test all interior areas to ensure that the structure is properly cleaned, disinfected, and deodorized.  
Read more about flood, sewage, and water damage cleanup and repair.
Oil Spill
Most properly maintained home heating oil systems never experience a release or spill. When a leak, spill or other release of heating oil occurs at your home, you may not know what to do. TERS experts can assess, cleanup and neutralize all affected areas using our
GREEN
materials and in-house knowledge. Oil spill release into the environment contaminates material. TERS will monitor the level of VOC's at all affected areas before, during and after to assure
Indoor Air Quality Restoration
.
Blood-borne Pathogens
TERS Experts remove and dispose of bodily fluids, tissue and all potentially pathogenic materials resulting from crime, accident, death, or 
fire
. TERS in-house professionals clean, disinfect, and decontaminate the structure and all interior environments.
Crime Scene Residues
Evidence-gathering chemicals, fingerprint powder and pepper spray residues or any contaminate, TERS experts can clean, decontaminate and restore your property after a crime scene investigation.