Machines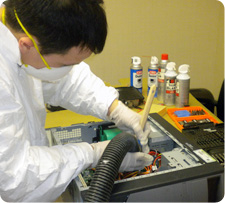 Fire damage
 or
water damage
 due to flood, sewage malfunctions, or other hazards affecting the machinery can lead to rust, soot contamination, or microbiological contamination and cause disruption and stoppage of your business or commercial enterprise.
TERS experts use state-of-the-art equipment to remove rust and soot, and detect and remove biological contaminants. We will help you to prevent rust on your valuable equipment. Our goal is to restore your equipment and machinery to its original condition, if not better.
TERS' Machine Restoration Services:
Post damage emergency services.
Soot removal and decontamination.
Rust removal and prevention.
Microbiology contaminant removal and decontamination.
Preventative treatment.
State-of-the-art restoration.