Mold Treatment & Remediation
The goal of mold remediation is to:
Remove surface microfungi.
Remove airborne mold from the air and interior surfaces.
Prevent fungal recurrence.
Re-establish a healthy indoor environment for occupants.
Restore affected building and contents to pre-loss condition or better.
Restore Indoor Air Quality.
Prevent dissemination.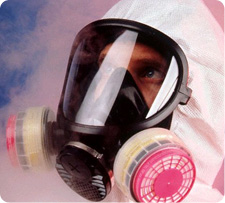 TERS is a leader in toxic mold, 
mold
 and 
indoor air quality
 decontamination, remediation, and restoration. TERS comprehensive mold services extend to residential, commercial, school, hospital, hotel and industrial facilities. No other company has the expertise to remove and prevent future mold contamination. Our certified experts will save you time and money while avoiding additional damage to the building or quality of the indoor air. TERS serves New York (NY), New Jersey (NJ), Connecticut (CT), Rhode Island (RI), Massachusetts (MA), Pennsylvania (PA), Delaware (DE), Maryland (MD) and New York City (NYC). Each mold treatment job is unique and may require deviations or additional measures to official remediation guidelines or protocols as outlined in regulatory documents. In moisture-damaged buildings (see 
Water damage Restoration
), the extent of hidden colonization is almost always greater than what is readily visible.
Successful remediation of mold requires an understanding of:
Fungal and bacterial ecology in various building systems.
Why the microbial contamination has occurred on certain structural components of house materials.
Knowledge and experience in use of biocides and preventatives.
Preventative treatment of obvious and conceited contamination.
Flood, sewage, and water intrusion specifics and damage prevention techniques.
All TERS mold remediation projects are performed by certified technicians and experts in the fields of mold, indoor air quality and restoration. Our experts will save you time and money while avoiding additional damage to the building or indoor environment.
Contact TERS today at 1-877-777-3117 for a consultation regarding our mold testing, treatment, restoration, and decontamination services.