Black Toxic Mold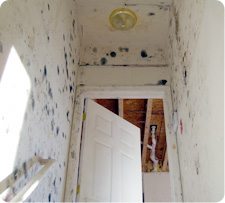 TERS' building restoration experts include board certified mold inspectors who are experts in toxic mold investigation, abatement and decontamination, serving New York (NY), New Jersey (NJ), Connecticut (CT), Rhode Island (RI), Massachusetts (MA), Pennsylvania (PA), Delaware (DE), Maryland (MD) and New York City (NYC). We also provide inspection and restoration services after fire and 
water-damage
. We use state-of-the-art techniques and follow the American Indoor Air Counsel methods for black mold testing and inspection, along with the latest methods for mold abatement and decontamination. We collect air and surface samples, analyze them, and do a 
mold damage and contamination assessment
. We provide a comprehensive report and will recommend emergency action if contamination is critical. Black toxic mold should not be allowed to spread unchecked indoors because of the 
associated health risks
, ranging from allergic responses to more serious consequences, such as 
allergies
, circulatory problems, skin disorders, nervous system conditions, and interference with protein synthesis at the DNA level.
Stachybotrys is the scientific name for "black toxic mold." Black mold grows in moist areas on cellulose-based materials, such as: ceiling tiles, dead plant materials, water-damaged building material, wallboard/drywall, and wood. This greenish-black mold produces a series of harmful toxins and a variety of compounds that affect the immune system. It thrives in areas with relative humidity above 55%, which could result from 
flood, sewage or water damage
. Even dead spores are allergenic and can be toxic, so identification of even a few black toxic mold structures and spores requires adequate treatment and preventive consideration. 
We are experts in:
Testing for toxic mold in schools, hospital, homes and businesses.
Black toxic mold assessment and abatement.
Black mold testing and inspection.
State-of-the-art analysis.
Toxic mold decontamination, remediation, and abatement.
Testing for Stachybotrys mold.
Sick Building Syndrome (SBS) contamination remediation.
Quick Facts On Stachybotrys:
Slow growing fungus producing abundant airborne mycelia.
Areas with relative humidity above 55 degrees are ideal for toxin production (Croft et aI., 1986)
Growing concerns about adverse health effects caused by this fungus mainly S. chartarum (atra) and its toxigenic metabolities such as satratoxin.
Recently pulmonary hemorrhage in infants has been reported (Etzel et al 1998) where S. chartarum was recovered in higher levels than in control samples.
Conflicting studies concerning the toxicity of certain strains, have documented circulatory, skin and nervous system health risks.
Dead spores are still allergenic and toxigenic (Croft et al., 1986).
Satratoxin H is a poisonous by product of spores (interferes with protein synthesis at the DNA level, (Carlson, 1998).
Identification of even a few "Stachybotrys," ( black toxic mold )structures and spores need adequate preventive consideration.
Presence of "Stachybotrys," ( black toxic mold ), is hazardous in indoor environments, and warrants immediate risk assessment (AlHA in Macher, 1999).
Stachybotrys presence should not be tolerated because of potential exposure and health risks, ranging from sensitization, allergic responses, and potential toxigenic affects.
TERS serves New York (NY), New Jersey (NJ), Connecticut (CT), Rhode Island (RI), Massachusetts (MA), Pennsylvania (PA), Delaware (DE), Maryland (MD) and New York City (NYC).