DOCUMENT & BOOK RESTORATION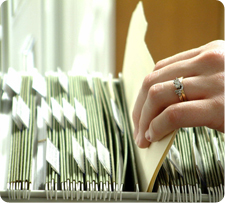 TERS restoration experts have been in the recovery business more than 30 years, with more than 100 years of combined experience. We have recovered millions of documents, legal files and books, as well as gained nationwide acclaim for successfully completing the most challenging book and 
document restoration
 projects.  
With in-house facilities larger than 100,000 square feet, TERS can process and restore several million documents monthly. TERS restoration experts use a unique approach for document restoration. The company outshines competitors with its unique freeze-drying method customized specifically to document restoration. The TERS seasoned document restoration experts are well-trained in the field of book and document recovery, drying, freeze-drying and decontamination. They know all features of the emergency services and how to best serve your needs – timely, cost-effectively and efficiently.
Our 
disaster recovery
 is unmatched for situations involving water damage to documents, having successfully completed many recovery projects. Our technical superiority has been recognized on numerous recent document restoration and recovery projects. 
In case of a 
fire
 or 
flood
, one of the most important concerns is to save your irreplaceable documents, books, and photos. Property can be rebuilt and furniture replaced, but documents, 
artwork
, and precious photographs are one of a kind. Our years of recovery and restoration experience can help you save your sensitive documents, books, and art. 
---
What Types of Documents and Media Can TERS Restore?
TERS specialists are trained and experienced in document recovery and paper document restoration. Using our in-house advanced technology and equipment, our expert team can recover and restore all types of documents, from legal documents to damaged photographs. After recovering the documents, our team can convert them to electronic media and upload them to your company or personal cloud.
---
TERS' Restoration Support Services:
24-hour around-the-clock emergency hotline: 877-777-3117
On-site expert restoration assistance & consulting
On-site restoration evaluations & environmental testing
On-site pack-out assistance
On-site re-shelving and re-filing
On-site climate control system

GREEN decontamination and deodorizing to remove smoke odor

Vacuum freeze-drying services
Pickup and refrigerated transportation
Freezer and climate-control rooms
Barcode tracking systems for large projects

TERS' document and book recovery services are offered to both our residential and commercial customers. For very large disasters, our mobile drying equipment can be set up and installed on site. This treatment includes the application of our recovery and salvage process that includes:
Cryogenic freeze-drying of documents and books
Removal of surface contamination, mold and soot
Decontamination & deodorizing to remove smoke odors
Blueprints and maps recovery
Photocopying of damaged or undamaged materials
Relabeling, indexing, and reordering of files
Microfilm drying and restoration
Book restoration and preservation
Freeze-drying and control drying of books and documents
Restoration of legal files, medical files, and historical documents
Restoration of archives, library materials, and special collections
Recovering magnetic media
Photo restoration, including film, negatives, and old slides
Document digitization and imaging
Deacidification and VOC abatement
Damage to Archives, Books, Files and Documents requires special care. Trying to brush away soot can cause further damage, as can unfolding wet paper. TERS document recovery and restoration experts use state-of-the-art equipment to remove soot, mold and other residue. TERS specializes in 
document restoration
 and 
digitization
 services for affected documents. 
---
How Do TERS Experts Perform Paper Document and Photo Restoration?
Time is a key factor in restoration, and it is vital for any damaged document or damaged photograph to be restored as soon as possible to allow the best possible results. TERS experts use several scientific processes with our unique and cutting-edge customized equipment to effectively restore your documents.
Flood- and Water-Damaged Document Restoration
Water- and flood-damaged photographs can only be restored by professionals. TERS experts are fully equipped to recover documents before it's too late. When important paper documents or books are exposed to water, TERS's document restoration specialists use climate control rooms, specially designed molecular sieves, and thermal and vacuum freeze dryers to restore books, documents, 
art
, and other paper materials. After drying is completed, our clients will often use our digitization services to digitize their archives.
Our professionals recently assessed, inventoried, packed, transported, dried, restored, and digitized one of the world's largest legal archives, with over 62 million documents. This second-to-none project was successfully completed by TERS after Hurricane Sandy.
Mold-Damaged Document Restoration
When a vital document is infected by mold, bacteria, or other microorganisms, the TERS document restoration process includes advanced sterilizing of the document using electron beam radiation or gamma radiation. Our document restoration services can save entire libraries from further decay and biocontamination.
TERS is the only company that performs chemical, lead, and asbestos removal on documents.
Fire-Damaged Document Restoration
In case of fire or smoke damage, TERS's paper document restoration and recovery process includes state-of-the-art decontamination and cleaning methods, such as particulate contaminant removal, ionized air washing, and 
GREEN deodorization
.
TERS is the only company that performs GREEN document recovery, restoration, and digitization in-house.
---
TERS's Document Restoration Mobile Laboratories
TERS has a large in-house inventory of mobile freeze-dry chambers and equipment to freeze all types of documents on-site. Within hours of our arrival, the damaged documents will be inventoried, packed, frozen, and shipped to our document recovery center. We use only proven methodologies and procedures for cost-effectively and safely ensuring a successful document recovery project.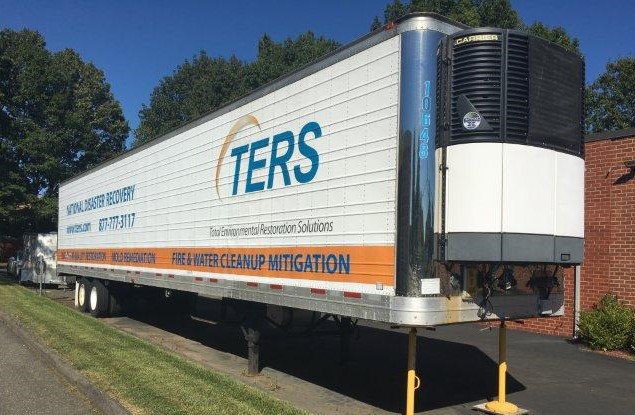 We serve the US and Canada and can be on-site within 24 hours. In case of emergency, it is vital to begin document recovery and restoration procedures as soon as possible. Contact TERS, 24/7, at 877-777-3117, and let our team help you save your valuable documents and books.
TERS's document restoration technicians receive in-house training that includes top industry knowledge. All services are performed in-house following our proven protocols. As a government- and police-approved vendor, all of our document restoration facilities have high security measures, secure access, and 24/7 monitoring.