BUILDING RESTORATION DRYING & CLIMATE CONTROL
Did you know that there's a science behind the building restoration for water damage? There's much more involved than simply operating the heating system, opening doors or removing soaked carpeting. 

TERS has the equipment, science and experience necessary to handle challenging and complex situations and restore your building to normal. TERS is
THE
highly professional 
water-damage
treatment company that can respond to 24-hour emergency calls. Prompt action by experienced restoration professionals will prevent environmental damage (
mold
, bacteria and viruses) and structural damage to property. TERS water damage experts concentrate on safely drying, decontaminating and disinfecting the areas flooded or damaged by water and ensure you have healthy air quality. TERS professionals are available 24/7 to help you minimize 
water damage
 to your indoor environment. The TERS advantage combines our in-house knowledge, experienced professionals and state-of-the-art equipment. We can dry: residential and commercial buildings,
books
,
files
,
electronics
,
artwork
and more.
Our goal is to restore your home or office to and remove any water damage, and prevent further contamination.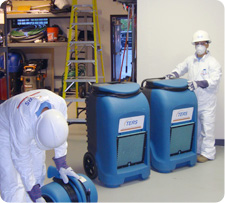 We have a full fleet of drying equipment. Our inventory includes drying equipment, fans, generators, refrigerant desiccant dehumidifiers and vacuum chambers. We regularly work with all insurance companies. We can bill your insurance company directly.
TERS experts will arrive on-site with:
Indoor Air Quality monitoring system.
Moisture detectors, hygrometers and Infrared Thermometer.
Portable extraction units perform efficient water removal.
Heavy-duty gas-powered pumps are used for pumping of high-level water.
Non toxic Sanitizing Agents, Germicides, & Anti-Microbial Treatments.
Hi-Tech Drying Equipment (low amps, quiet, high efficiency).
Drying equipment remotely controls temperature and humidity.


Additional Facts:
Unprofessional drying can cause additional mold contamination and structural damage.
Contaminated drying equipment can cause additional mold, bacteria and virus contamination.
Over drying can create "incubation", increasing significantly levels of airborne mold.
Lingering drying process may cause additional mold contamination and structural damage.
Some of the chemicals used by other restoration companies are toxic and can contaminate your indoor environment!