T-911 RESTORATION EMERGENCY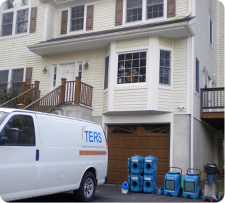 T-911 is TERS' high quality emergency response program for tri-state area customers' environment and building restoration needs.
By pre-planning comprehensive environment and building emergency response, TERS is able to complete any 
water, sewage & flood damage cleanup
 or 
fire, soot & smoke damage restoration
 in a short time while ensuring the environment will be free from hazardous materials and biological contamination. Your business/home gets back to normal operations as quickly as possible. When disaster strikes, T-911 customers benefit from preferential service, which is defined in advance: high priorities, emergency measures, responsibility, and science backup.
With TERS, you can be certain that all necessary steps are taken immediately to protect your environment with all safety precautions. TERS is a full environment and building restoration company—you don't have to take valuable time coordinating immediate response with suppliers/experts. Relax, and focus all your energies on restarting operations and going back to normal life.    
We are a service-orientated company geared toward individual customer needs and dedicated to producing the highest quality workmanship with unique field experience, strong management and structural engineering background. We strive to complete projects
on time
,
under budget
and with
high quality
. 
We can save you and your customers time, money and health concerns.