Advanced Duct Cleaning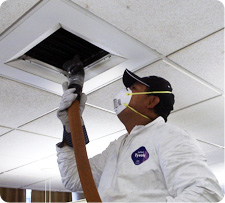 How can air quality affect us?
How important is the quality of indoor air to your working environment? There are many duct cleaning companies available, so how do you choose the best one? 
Make the healthiest and cleanest choice by employing
TERS Advance Air Duct Cleaning
. Our company can help
improve the air quality
of your environment significantly, increasing performance and productivity for you and your employees. With years of experience in the industry, our highly trained and efficient specialists are ready to assist you 24/7. We can perfectly
clean and sterilize
your heating, air conditioning (HVAC) system, or ventilation to ensure removal of all indoor contamination. 
TERS GREEN/Environmentally Friendly
advanced duct cleaning services bring the indoor air quality to the highest possible level. TERS's experts are highly qualified in duct system
cleaning and sanitizing
, improving
air filtration and circulation
, and preventing recurring chemical or biological contamination. TERS is renowned in the domestic and commercial air duct cleaning and sanitizing field, setting professional criteria and promoting ethical practices that other companies emulate. TERS strictly follows industry standards (
NADCA
 & 
IICRC
) in air duct cleaning and sanitizing.
TERS has expertise in all areas of air duct contamination, cleaning, and sanitizing
. TERS is the only company in the industry that provides a three-year warranty, taking indoor air quality to the next level! 
Commercial Air Duct Cleaning
When you need a comprehensive cleaning for commercial air ducts, look no further than the TERS duct cleaning experts. With over 30 years of experience and innovation, our team is well-versed in performing advanced air duct cleaning to improve air quality.
TERS's experts will custom design a plan of action based on your needs. Using state-of-the-art technology, we will monitor all parameters related to the indoor air quality including particles, 
mold
, 
bacteria
, and 
viruses
 such as 
COVID-19
. Based on our findings, we will develop a plan for how to best clean the HVAC system, including the duct system, the supply, the return, the air handler units, and all other related systems.
We utilize cutting-edge negative pressure in the duct system and use compressed air brushes to dislodge all soot from within the duct work. All dirt is then collected inside our HEPA/carbon-filtered vacuum system. TERS's advanced cleaning system removes containments in the air and prevents microbial activity. After the system is cleaned and inspected, our technicians will sanitize the entire system and their working areas.
TERS performs advanced air duct cleaning in office buildings, schools, hospitals, hotels, commercial buildings, retail buildings and laboratories.
TERS's experts personally perform all work. Our experience and knowledge can save you money and alleviate health concerns.
Frequently asked questions:
Does TERS still perform work during COVID-19?
Yes, TERS continues to provide preoccupancy cleaning, COVID-19 prevention, and indoor air quality restoration during the pandemic. Our COVID-19 services come with a one-year warranty. Please visit COVID-19 DECONTAMINATION.
How is TERS's pricing compared to ordinary duct cleaning companies? 
TERS has many years of experience with a high level of expertise. This helps minimize costs and typically allows TERS to charge an average of 15 percent less than other duct cleaning companies. TERS also provides an additional inspection the following year, FREE of charge.
What is your experience and knowledge?
TERS has more than 30 years of experience in planning, designing, performing, testing, and evaluating duct cleaning and indoor environmental restoration.
What kind of warranty do you provide?
TERS offers a three-year warranty on all duct cleaning projects.
Do you use any toxic materials?
TERS is a 100 percent GREEN company and does not use any toxic and harmful chemicals.
How do you monitor the project?
TERS uses cutting-edge technology to monitor indoor contamination, air flow, all particles, VOCs, mold, bacteria, and more.
Do you clean and sanitize your equipment after every use? 
TERS cleans, sanitizes, and certifies all equipment before and after every project.
Are you licensed and certified for mitigation and indoor environment jobs? 
TERS is fully insured, certified, and licensed for all mitigation and indoor environmental jobs.
Do you provide a clear scope of work prior to the project? 
What kind of training do you provide to supervisors and technicians who work on the sites?
All TERS supervisors and technicians are trained and certified in duct cleaning, remediation, and environmental work.
How do you prevent cross-contamination, mold growth, and other secondary damage?
TERS performs all work under containment and negative air pressurization and electronically monitors all indoor contaminations.