Mold in the News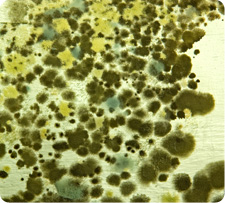 TERS is a leader in 
mold
, 
toxic mold
, 
indoor air quality
 testing and remediation in addition to 
fire damage restoration
 and 
water damage restoration
. TERS comprehensive mold services extend to residential, commercial, school, hospital, hotel and industrial facilities. Our experts use proprietary testing techniques for 
toxic mold
 assessment and remediation. TERS serves New York (NY), New Jersey (NJ), Connecticut (CT), Rhode Island (RI), Massachusetts (MA), Pennsylvania (PA), Delaware (DE), Maryland (MD) and New York City (NYC). As people become more aware of the
health risks
associated with mold, there has been more coverage of mold in the media as it relates to children, schools, asthma, odors, and it's toxic potential. See below:
Exposure to Mold Doubles Risk of Asthma: 
Exposure to mold and dampness [see 
Water Damage Restoration
 - TERS] in homes as much as doubles the risk of asthma development in children, according to a study published in the March, 2005 issue of the peer-reviewed journal, Environmental Health Perspectives (EHP) Researchers studied 1,984 Finnish children, age 1 to 7 years old, over a six-year period, to see if they developed asthma. Data collection included a baseline survey administered in March 1991, as well as a follow-up survey in March 1997, asking questions about the child's health, parents' health, parent's highest education level, and details of the child's environment including exposure to environmental tobacco smoke and presence of feathery or furry pets.
The study focused particularly on four indicators for moisture and mold in the home, including mold odor, visible mold, visible moisture, and history of
water damage
. The presence of mold odor proved to be the only significant indicator of asthma development.
(I-Newswire.com - Mar 7, 2005)
Hazards of Toxic Mold:
As Jennifer Lair walks her daughter, Skyla, and a friend, to school, she fears Skyla will once again expect her little sister, Neveah, to be home at the end of the day. Lair says, "Skyla, she, at first, she was angry. Now she just questions: When is she coming home? Or is she coming home?" Two-year-old Neveah Lair died suddenly last year. "We woke up that morning, and she was gone," Jennifer Lair recalls as she wipes her tears. "It just angers me because I kept telling management, you know, that something was wrong in the apartment."
(CBS News - Mar 4, 2005)
Mold on College Campus:
About 50 Tougaloo College students stood outside the administration building Wednesday to protest a mold problem in two dorms, officials and students said. "We decided it's time out for talking, it's time for us to do something," said Tougaloo sophomore Brandi Brame, who helped organize the protest.
The idea for the protest came after Brame's friend developed breathing problems, and her physician said 
mold
 could be a factor, she said. Green, black and brown mold grows on window sills, showers and in stairways in A.A. Branch and Renner halls, said the 20-year-old English secondary education major from Chicago.
(JacksonClarion Ledger, MS - Mar 3, 2005)
TERS serves New York (NY), New Jersey (NJ), Connecticut (CT), Rhode Island (RI), Massachusetts (MA), Pennsylvania (PA), Delaware (DE), Maryland (MD) and New York City (NYC).