DOCUMENT DIGITIZATION SERVICES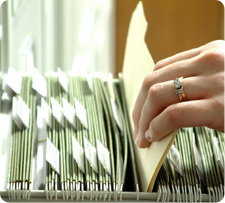 TERS, Inc. offers cutting-edge document scanning, digitization, imaging, and archiving technologies for its diverse clientele. As our demand for high-quality document digitization has grown, TERS continues to deploy solutions for 
documents recovery
 and digitization which adapt to a multitude of applications and requirements. We don't just scan documents; our digitization process includes drying, cleaning, restoring and archiving quality digital images. 
Why choose TERS' Digitization Services?
Recover damaged or lost documents
Reduce paper, improve efficiency, and lower costs
Find documents faster, share documents easier, and process documents quicker
Access, track, and process documents from your PC or mobile device
Expedite your business processes with online database
Empower your employees with immediate access to all information needed
Scan legal or medical records, and access them from within your online system
Get your files back within 24-48 hours
Our services are all-inclusive and done in-house. With more than 25 years' experience, state-of-the-art equipment and highly secured facilities, TERS Inc. will do the job right – from start to finish.
Digitization of bound books
Whether your project entails scanning and digitizing library books, legal files, corporate records, historic collections, medical records, one-of-a-kind works, lab notebooks, magazines, or any other type of bound content, TERS Inc. has the solution. All of our digitization equipment utilizes cradle technology to provide you with affordable, on-time solutions. Whether your books are duplicates or you are interested in archiving select information, we can professionally unbind the books in our bindery prior to scanning and digitization, and rebind the materials for long-term storage. 
Document digitizing large-scale projects
Having preserved some of the most valuable collections, TERS is one of the world's most prestigious companies in preservation, digitization, and archiving. With a reputation among many satisfied archivists, TERS has been successful in achieving the utmost quality of large-format document scanning and imaging. TERS' experience and knowledge encompasses a vast understanding of the complex and diverse handling and imaging requirements inherent to a variety of materials. 
Digitizing document files
From mortgage documentation, HR records, personnel files, school/teacher records or transcripts, invoices, accounts payable items, insurance or health care forms, bank records, legal documents, proof of delivery, receipts to index cards, we can scan, digitize, and archive all loose documents. Our cutting-edge scanning technologies, assists our customers in becoming cost-efficient by providing fast digital access to critical documents. 
Loose or damaged materials can be scanned and digitized utilizing Automatic Document Feeder (ADF) devices or – for those that require special handling – one by one on a flatbed scanner. We understand that all documents are not in perfect condition. Many back file conversions or ongoing projects need preparation of the documents (drying, removing staples, paper clips, "dog ears," tape, etc.) prior to scanning and digitization. TERS document digitization services easily meet all long-term service goals with whatever frequency makes the most sense for improving your workflow. TERS' document digitization services are a cost-effective and valuable conduit for your company's ongoing retrieval and digitization needs, and ultimate success.  
With TERS, going paperless is easier than you think. Our comprehensive process is cost-effective and uses document management software that requires no capital expenditure.