TERS Environment and Building Restoration in the News
TERS Restores Manhattan Criminal Courthouse after Severe Fire Damage
03/01/2010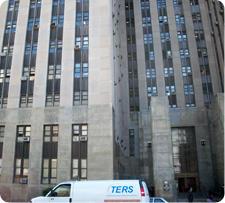 March 2010: The Manhattan Criminal Courthouse in downtown Manhattan faced extensive fire damage which contaminated more than a million square feet with smoke and soot. TERS arrived at the scene in less than two hours with mobilized environmental teams, filtration systems, environmental restoration equipment and air quality monitoring systems.
TERS' teams worked around-the-clock to restore regular business operations in days.
TERS technicians conducted deodorization and indoor air quality restoration and maintenance. TERS' timely response saved millions of dollars' worth of business interruption claims.
During the job, TERS used only
GREEN
methods and state-of-the-art environmental equipment to avoid any cross-contamination and ensure client safety.